Recently, a local veterinarian's office contacted me about a dog in their care.
This dog's name is Tori and Tori desperately needs a home. She is a healthy American Pit Bull Terrier and is two years young.
Tori is friendly with people but is reactive to other dogs. Unfortunately,Tori's previous owner got bit trying to intervene when Tori was mid-scuffle with another dog. Tori has never done serious damage to a person or other dog, but a judge has decided that Tori must find a new home or be euthanized.
The wonderful staff at Vestal Veterinary Hospital have grown fond of Tori during her quarantine period. So fond, in fact,that many of them have donated their own boarding time to buy Tori a little more time to find a home.
Tori is friendly with all the staff and is having a hard time adjusting to life in a boarding facility. She is highly stressed, to the point of rubbing her nose raw on the door of her kennel. What she would really like best is a quiet home where she could be the only dog.
I am going to meet Tori tomorrow and do an evaluation. I am willing to help Vestal Veterinary Hospital's staff in finding Tori a great home. I'd also be willing to donate a free introductory session to Tori's adopter to help get them off on the right start.
Heather, one of the vet techs at Vestal Vet, was kind enough to take some pictures of Tori. In this one, you can see the sore from rubbing her nose against her kennel: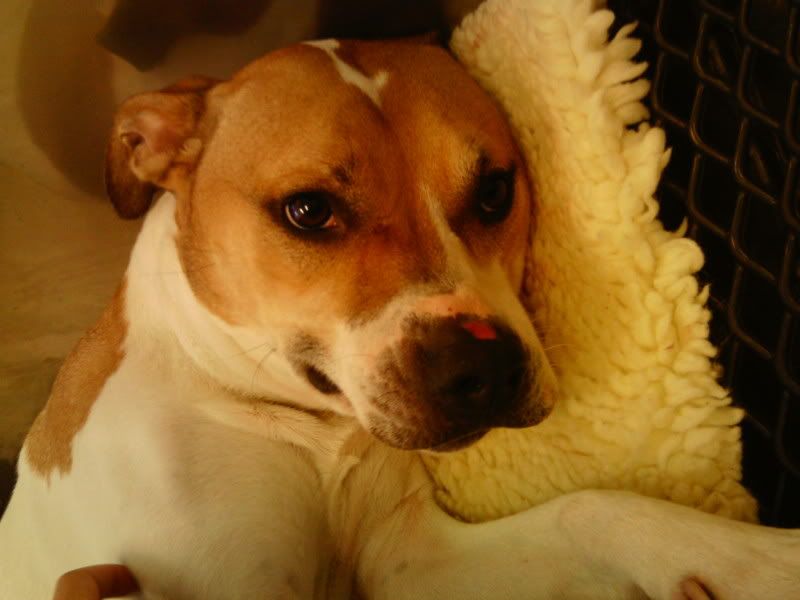 If you are interested in adopting Tori, please contact me through our contact page or via casey@rewardingbehaviors.com. I'll happily provide more pictures upon request.